Thursday, November 8th: 3pm – 5pm Looking for a way to connect with readers? Take part in the author signing and meet and greet. sign up is open to all attendees! Those who register will be assigned half a table, and generally sorted by genre so fans can find you and new readers can discover your stories. Only 200 spots are available.
Click here to register to attend as a fan!  By signing up, you'll be eligible for a raffle to win one of three Kindle Paperwhites being given away at the end of the signing event. Cost for fans is only $2.50 as snacks & beverages will be provided.
Author Signing Event Would you like to sign some stuff for your fans? Maybe find some new fans? The author signing event is almost full.  There is a $2.50 charge for the fans, but that's to cover snacks and tell us who is serious about coming. It's a trivial amount, but will give us a better number of attendees. Also, all registered fans are eligible to win one of three Kindle Paperwhites that we'll give away at a raffle at the end.
Share the promo material below with your readers – if each participant is able to convince two or three fans to come to meet their favorite author, then we'll have at least 500 fans show up to browse the tables. Let's call that frosting on the cake of a great conference.
We want all readers and fans who can make it to stop by and fill the hall with screams of joy. We'll have sharpies so you can sign whatever needs to be signed:) Details on what you'll need and how to find your table will be provided closer to November.
Everyone who signs up for the author signing event will get half of a six-foot table. You'll be back to back with other authors as I tried to portray in this eye-popping graphic that I put together using PowerPoint. Each author gets a chair and half the table. Free standing banners are not allowed as we can't be sure we'll have space. Your display must fit on your half of the table. Don't hose your neighbor and don't hose the person behind you. This is for you to sign books from your fans. This may not be a great venue to sell books, so you might want to limit the inventory your bring. We will arrange by genre so you should see some foot traffic. We're asking everyone who participates to get the word out. You never know if you have a fan who lives in/near Vegas and would love to stop by and say "Hi!"
There is no cost for authors or fans for this event (authors must be paid registrants of the conference, but there's no added cost here). There will be some snacks and beverages. There will be a raffle for three Kindle Paperwhites for the fans. One thing you might want to consider is having a bookmark/business card with a download code that people can pick up from your table.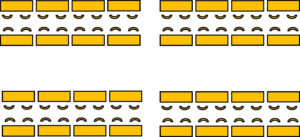 We will also have what is called Coffee Clatches. If you have at least eight fans coming, we will have a couple round tables cordoned off where an author will get 15 minutes to meet with their people and share coffee/tea/water (which will be provided). There will be a sign-up cost for this as your way of guaranteeing that you'll have eight fans for a small amount of private time.
Here are some promotional words that you can use for your social media engagement.
Signing Event Promo Materials – Tweet
I'll be at Sam's Town in Las Vegas on November 8th for a FREE author signing event. Come say hi, meet 100+ authors and get your books signed!
Signing Event Promo Materials – Newsletter/Facebook
Big news! I'm going to be at an author signing event in Las Vegas on November 8th, from 3-5pm. Over 100 authors in the same place, signing books and meeting readers. This is a free event for fans, and you're welcome to either bring your own books or purchase some in person. Three lucky people will win a Kindle Paperwhite!
I'll be at Sam's Town, in the Sam's Town Live! room on the main floor, in Las Vegas from 3-5pm on November 8th, and I hope to see you there! The address is: 5111 Boulder Hwy, Las Vegas, NV.
Here are graphics to share (click for full size):